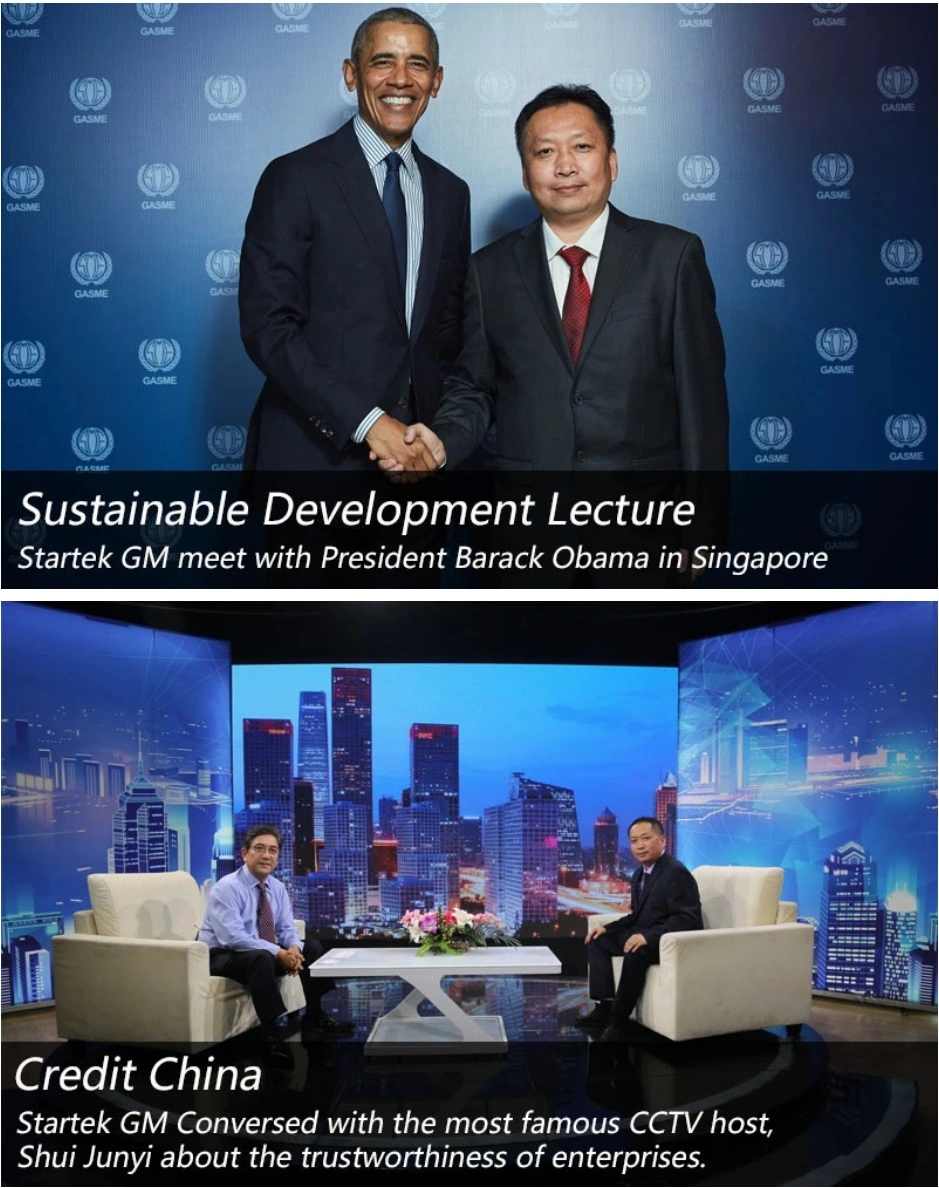 1.LCD name: 0.96 inch 80*160 dot-matrix, ST7735S, 4 wire SPI TFT LCD module
2. Part No.: KD0096FM-1
3. Other model Part NO.:
4. Compatible part No.:
5. Size.: 0.96 inch
6. With touch panel or not: No
7. Display type: TFT
8. Display colors: 65K
9. Resolution (pixels): 80(RGB)*160
10. Pixel pitch: 0.135(H)*0.1356(V)
11. Viewing direction: Free
12. Controller IC: ST7735S
13. Display mode: Transmissive
Normally black
14. Overall size: 13.5*27.95*1.5 mm
15. Active Area: 10.8*21.7 mm
16. Luminance: 300cd/m2
17. Contrast: 300
18. Interface type: 4 line SPI interface
19. Pin NO.: 13 pins
20. Input voltage: 3.3V
21. Backlight type and color: LED backlight/white
22. Backlight: 1 LED
Vled =3.2V, Iled=30-40mA
23. Backlight life span: 50000h
24. Operating temperature range: -20----70 °C
25. Storage Temperature range: -30----80 °C
26. Certification of registration: ISO9001:2008 TS16949:2009 ISO13485:2003
27. Compliant: RoHS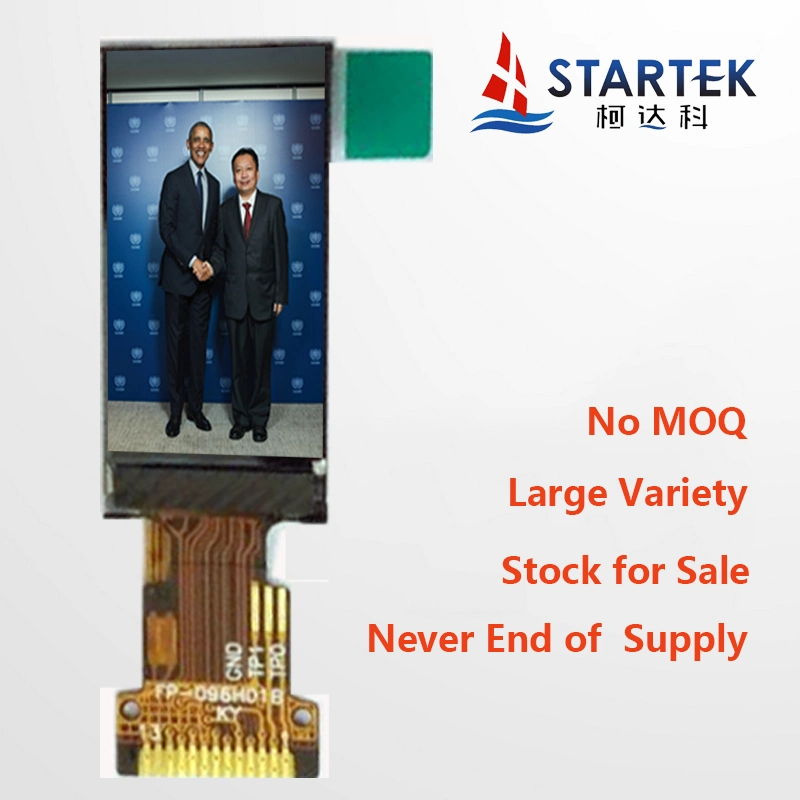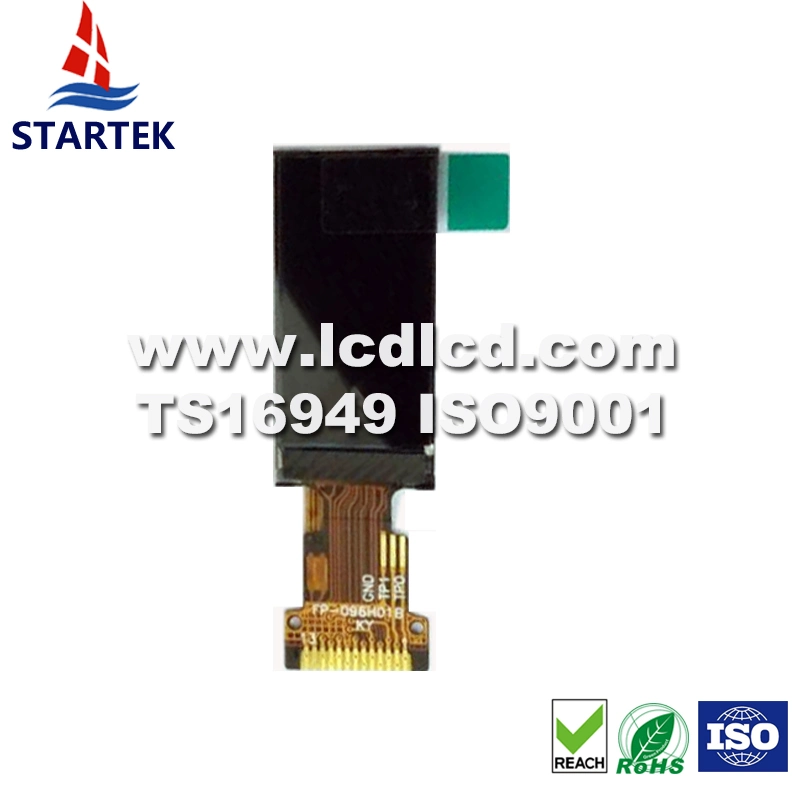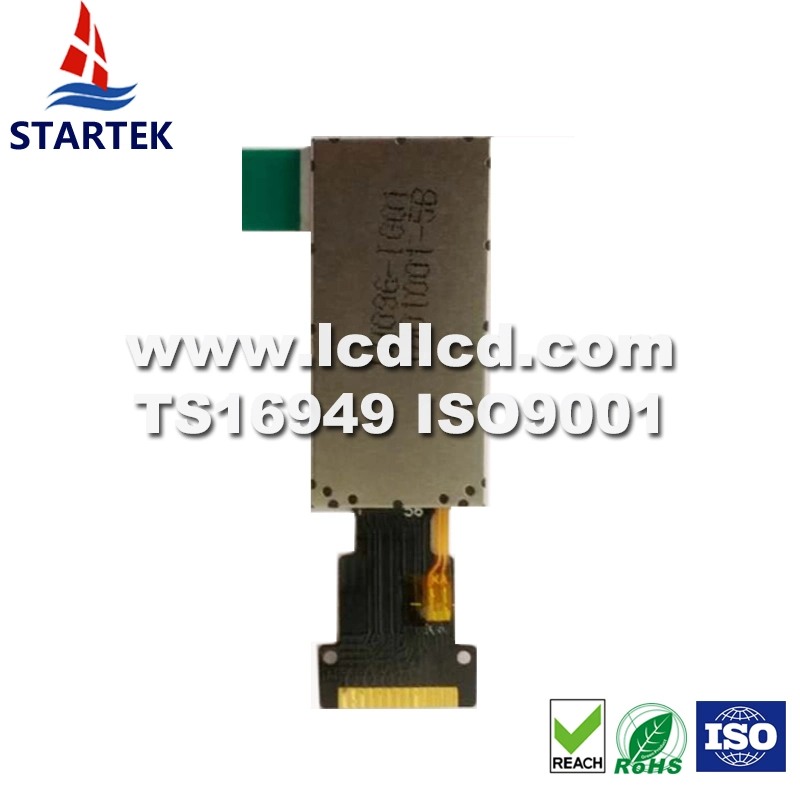 1. How to understand Stock for Sale.
Answer:According to the company regulation, each standard product must be kept the stock of 1000-5000pcs.
When the stock is less than 1000 pcs, we will put it into production at once instead of waiting for the orders. When the stock are
more than 5000 pcs, the production must be stopped.
Appropriate stock is a very good support for the customer's sampling and trial production demand.
The appropriate stock is also a guarantee of the quality. The production of the stock is always having more time than the
production of the order. We have enough time to do more checking and to consider all the possible factors affecting the quality,
what's more, in case that our products has been found a problem at the customer's production, we have the stocked ones to do the
replacement.
The appropriate stock is also a good way to reduce the cost. In busy seasons, we can produce the orders, while in free seasons, we
can produce the stock. By this way, the labor source is maximumly used. At the same time, in free season, the materials can be
bought at lower price.
2. How does Startek do for Never End of Supply?
Answer:EOL(End of Life) is largely because of end of life of the raw materials
When the EOL of the raw materials such as drivers and LCD panels happens, we can place a very large order with the supplier which
may cover the consumption of one or two year. This large order is enough for the supplier to restart the production.
On the other hand, we can develop the replacement product which is mechanically and functionally the same as the previous one. For
the customer, only software will be changed a little while the hardware will remain the same.
For instance, about 4 years, Ilitek declared EOL for ILI9325C, but we bought 300k in one lot although our demand is 50k only. We
kept 250k in stock for future use. So far we make Ilitek restart the production exclusively for us for 5 times. By now the
products with the driver of ILI9325C is still normally supplied in our company.
Another instance is related to 3.0 inch 240*400 panel. About two years ago, the supplier declared EOL. We get another supplier
copied this product with a low MOQ purchase agreement. Now KD030C-1, KD030C-2 and KD030C-3 (3 inch) are well available in our
factory.
Startek has built comprehensive relationships with the supplier such as LG, Hannstar and BOE and we can get the EOL products
through our special channel to guarantee the continuous supply.
In LCD industry, due to the quick update of the technology, never end of supply is hard, but so far, Startek has never
disappointed any customer.
Once the customer chooses us, we will offer the unchanged service till the end. Long-time relationship and mutual trust are our
target and we hate well beginning but bad ending.
3. How to understand No MOQ?
Answer:The quantity of the order is decided by the market. As a supplier, we have no right to request the order must be more than
any quantity. We have no MOQ request, a single piece is also a good order for us.
In another way, our products are always having stock, we don't need to start the production for a small quantity, and we are
capable enough of accepting the small orders.
However, if the quantity is small, the price will be higher.
4. How to understand in Full Range.
Answer:In full range means that our products are in great variety. We have what other manufacturers have, and we have what they
don't have. The customer is easy to find what they want in our product group. Like Walmart instead of Seven Eleven, all kinds of
the products are placed before us and it is easy to attract the customers to come, so we like going shopping in Walmart, but we
don't like to go to Seven Eleven.
5. Will Startek go bankrupted?
Answer:Startek will never go bankrupted.
Startek has thousands of customers from different industries. The growth of Startek does not rely on any special customer.
Many customers are from Medical equipment and mechanical industry. These industries have long lifespan, their products are of long
longevity. Some of these buyers signed more-than-10-year supplying contract with us.
We have a good cash reserve which can cover 10 years'expense in the condition of 0 order.
We have a strong mind of strategy, we have 5 years' plan, 10 years'plan and 50 years' plan.
6. How does Startek guarantee the quality?
Answer: Startek has passed ISO9001:2008 certification. ISO principle is carried out in daily activities. The quality is strictly
controlled in designing, material incoming, production process, equipment, management and checking and the rejects are not allowed
to flow at any circumstances.
Startek has thousands of customers, in many cases, one product is being used by many customers. If one product is used by many
factories, the quality is believable because most of the problems were solved already.
The Startek is following the quality standards from automotive industry. Special attention is paid to the capacity of
anti-high-temperature, anti-shock and aftersales reliability. We don't fear the rejects on the production line, we badly fear the
rejects at the final consumer's hand. Solving such kind of rejects are most costly. Startek is always pursuing 0 aftersales
reject, so we adopted the strictest quality standards.
7. Why are Startek's products higher in price?
Answer: The LCD quality has three standards: 1.consuming standards.2.Industrial standards 3.Automotive standards. Automotive
standards are the highest grade which require the strong anti-shock capacity, anti-high-temperature capacity, high reliability and
very low rate of reject. To follow automotive standards, we have to select the best raw materials, and bring in the most expensive
equipment and very tough management, so our cost is higher.
In fact, our higher price is only manifested in samples. If the quantity is higher or the cooperation time is long, as long as the
customer files the price request, the favorable price can be available after negotiation.
8. How long can we expect the samples?
Answer: Immediately in most of the cases.