An open frame is an electronic kiosk parts that have lcd/led, android pcb, network pcb, pc and touch screen, cables, and other devices, customer can built the open frame into his finished kiosk or monitor cabinet.
Open frames are common used in many areas. Especially for industrial monitors, customers design different Android APK, graphics, webs, and cabinets to use in special industry. With open frame, people have more ideas on designing his or her own fashionable lookings. Different applications requires different different open frame hardwares.
Open frame has many kinds, different application different appearance. And there are many external equipment, such as camera, payment, scanner, keyboard and so on.
Our company is a professional manufacturer of touch screen open frame, self service kiosk, kiosk monitor, OEM, ODM led lcd kiosk.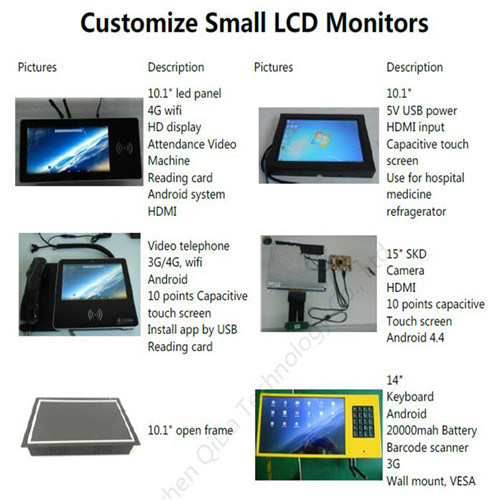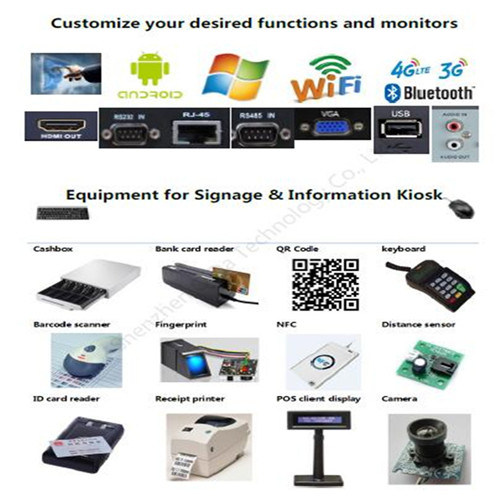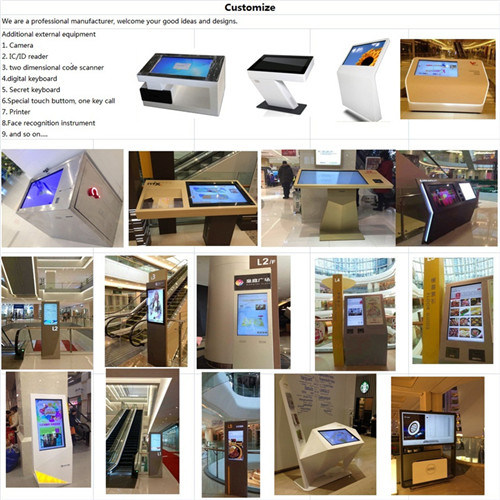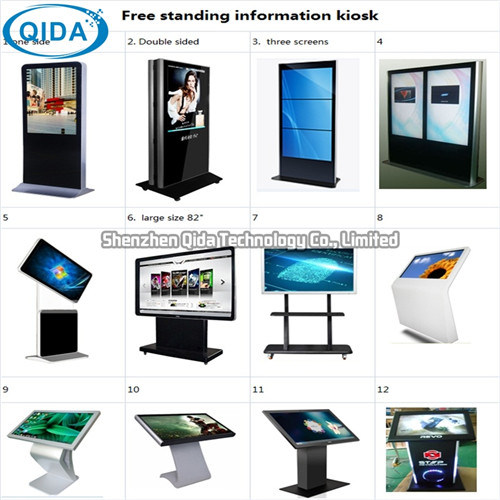 Open frame features:
Information check, way finding, Display messages, advertising, news..

Wifi, Android, network/windows

USB, VGA, HDMI

Can built in with touch screen for information checking.

size: 7" 8" 9" 10" 12" 13" 14" 15" 18.5" 21.5" 32"42"55"65"75"84"

Indoor outdoor LED LCD

Wall mount, stand floor and open frame

Infrared touch screen and capacitive touch screen

Built in with camera, printer, scanner, keyboard, card payment.
Open frame specification:
Model:

Open frame

Screen size:

21.5" 32"42" 55" 65"

Display size (mm):

930*523

Life:

≥50000h

Backlight:

LED

Angle:

178/178 UD/LR

Brightness:

450cd/m2

Display ratio:

16:09

Response time:

5-8ms

Color:

16.7M

Resolution:

1080X1920

Open frame Computer Specifications:

System:

X86 system

(WIN7/XP/WIN8)

CPU:

intel Celeron 1037U 1.8GHZ

Hard disk:

SATA 500G

Memory:

Kingston DDR3 1333 4G

Graphics card:

CPU integrated Graphics display

Audio decode:

Integrated 6 channel sound, support HiFi 5.1

Port:

VGA,HDMI,AV,USB,RJ45,PS/2

Function:

X86 architecture host

Through WIFI, WLAN Access Network

Support all video, documents, network streaming media formats

Perfect with the mainstream applications, greatly facilitate the development of customers

Low power consumption ultrathin Power Supply

Open frame

Touch screen Specifications:

Touch technology:

Infrared touch screen, standard for 2 point touch, extended to support 6-10 point;

Writing Mode:

Finger, stylus or other non transparent objects over 5mm

Response time:

4ms

Touch times:

more than 50 million times

Light resistance:

Full angle anti glare

Interpolated resolution:

32768*32768

Positioning accuracy:

≤±0.5mm

Communication:

USB

Touch effective area (mm):

523*930

Open frame HD display Specifications:

CPU:

A9 single core, 1G

Storage:

256M DDR3 1600M

Memory:

Built in 8G (7.3G available)

Support video format:

MPEG2

,AVI,MP4,DIV,TS,TP,TRP,MKV,MOV,DAT,ASF,WMV

Support pic format:

JPEG

,PNG(resolution up to 15000*15000)

Support audio format:

MP3

,MP2,WMA,WAV

Video decode:

Maximum resolution 1920*1080 / Maximum color depth 24bit / Maximum frame 30frm/s / Maximum bit rate USB2.0 device:30Mb/s

Audio decode:

Sampling rate 32kHz, 44.1kHz, 48kHz, 96kHz / bit rate 32kbps to 384kbps
Max, 480Mbps USB2.0

Port:

USB2.0

,Max 480Mbps

Function:

Video support completely seamless handover (currently similar products on the market two video switching have one to two seconds of black or need to pause processing)

Video 90 degree turn over without tools for transcoding. Support the menu and play content (video and pictures) 90, 180, 270 degree rotation.

Boot automatic play / support timer switch function / support super long running water subtitles display function, can adjust the font size and speed of scrolling subtitles

Support files directly copy and delete / support USB playback, support hot plug, convenient and quick to update content

Play mode: single repeat player, folder cycle player, full cycle playback

Picture playback: rotation, scaling, translation, slide show, background music playback

Audio mode: left, right, stereo

OSD multi language support: Chinese, English and other languages / calendar function

Expanding function:

Support USB to update and upgrade the program directly

Support split screen function

Open frame Android Specifications:

System

Android 4.4

CPU:

quad-core ARM Cortex-A9 schema CPU

,Main frequency 1.8G RK3188

Storage:

NAND FLASH/EC 8GB

Memory:

DDR3 1G

Port:

USB/USB OTG/RJ45/TF Port/Antenna Port

Function:

with Signagelink information release system

,Using B/S architecture,you can control the network terminal advertising machine via mobile network, WLAN,WIFI by anytime in anywhere.

Supports all video, file, network streaming media format;

Support split screen, support combination and design program content;

remote control playback time, volume,monitor prograe and inter-cut,dibble seeding

Support for USB playback , USB update , USB upgrade function
Open frame

warranty:
1 year
1. first, you can write emails to me ,or video to show the problem. we will help solve it online.
2. If there is some parts need to be changed, we will ship to you.
Normally, our products have few problems, as we have more than 10 years in manufacturing this product. many prototype and hot selling models, are innitially from our factory.
Open frame

payment
TT
Open frame

package
All of our digital signage products are packed with carton box and wooden box
Open frame

shipping
Fedex, DHL, UPS, Air, Sea